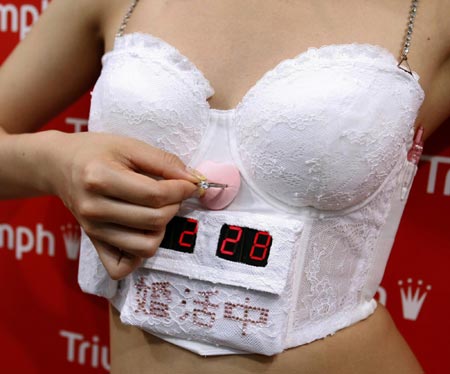 Hiroshi Osedo
May 15, 2009 12:00am
JAPANESE women hoping for a marriage proposal should try Triumph International's new husband-hunting bra.

The "konkatsu" model has a countdown clock beneath the bra cups that shows the time at which the wearer hopes her beau will pop the question.

If engaged before the clock hits zero, she or her fiance can insert the ring into a slot.

The bra will then play The Wedding March to celebrate her engagement.

What will happen if she fails to get engaged before the time is up? Never mind, the clock will reset automatically.

The new bra set was exhibited at the Triumph Autumn-Winter Collection show in Tokyo this week.

Would-be brides will have to be patient because the konkatsu is not on sale yet.
Hmm I can imagine this would make any man run.