Ahhh the
Social Club
. Once a bikie hangout and now a pivotal part of the High Street Strip in Northcote.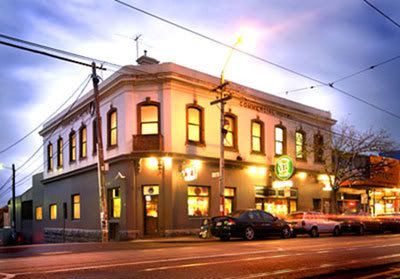 The pub is like what used to be found closer in to the city in Fitzroy and Calrton before they were bought out and turned into Yuppie bars and chic restaurants.
Having been a patron to the pub for a few years now the place feels comfortable when you walk in. With a real mixed bag of patrons everyone is welcome making for an atmosphere hard to manufacture.
The good points about the place include:
The band venue.
The northern suburbs have had a reduction in decent band venues with the closure of the likes of the Punters Club and pressure on others like the Tote. With a medium sized room the place has really gone out of it's way to make it a great experience to see bands up close. It has also always been a non smoking room as well whic always made for an interesting (cough) experience when the crowd came out between bands.
Front Bar.
The front bar is like most others around in the older pubs. A big long bar where people can sit and others can still get service.
No pokies.
Say no more.
Different Zones.
With the front bar, dining area (beer deck), side hall and pool area there is usually a spot to get some space to enjoy the joint.
The negatives are really minor in comparison.
Drink Prices.
Are probably slightly higher than another pub but this is negated when the prices in the band room are the same as the front bar.
Toilets.
Ok I had to thin kof something. all of Downstairs is via a set of small dunnys in the deck area often resulting in queues or upstairs via the drunken ankle wrecker of a staircase. The bonus with the men's upstairs is the accoustics from the band room are fantastic up there.
SO what's the rating?
no knackers
- shockingly bad
one knacker
- as bad as hitler because he only had on ball
two knackers
- normal and average
three knackers
- above and beyond the normal
four knackers
- incredible
five knackers
- as rare as five testicles
Today I am giving the NSC a nice rating of
4.273 knackers
... Huzzah!
So let me know if you have been there and what you thought.